24.01.16 Cicero Z van Paemel BWP Ambassador

On Friday evening our sixteen year old Cicero Z van Paemel was honoured as BWP Ambassador. The year 2015 in which the offspring of Cicero excelled in showjumping was crowned by this. Gigolo of Albert Zoer won the GPs of Arnheim and Mannheim. Fenia van Klapscheut was victorious in Leszno and Graz, Merqusio in Wiener-Neustadt and Gautcho da Quinta in the Nations Cup of Odense. One summer day in 2015 three Cicero Z offspring won a GP at the same time. Also where trade is concerned, the Cicero's are doing well. Bertram Allen bought Izzy by Picobello. Onyshchenko was tempted by Casual Z. Galisco van Paemel was sold to Brazil and Jos Verlooy, after selling Domino, purchased the 8-yr-old Cicero II from Tina Lund. At the Fences Elite Auction in France the stallion Moneymaker vd Axelhoeve was the auction topper who went for the historical amount of 195,000 euro. Julyssi van Orti, who went for 165,000 was the most expensive horse ever sold at the Woodland's Sales. In between Klacid of Cicero was the record-breaker of the Limburg Foal Auction and went for 38,000 euro.

Thank to his 83rd place on the WBFSH Sire Ranking and no less than 22 descendants on the WBFSH Breeder Ranking Cicero conquered the label Ambassador.


23.01.16 Ginnis wins GP Moorsele & Cicero's Electric seven year olds at WEF

Ginnis van 't Geyzeven

(Cicero Z x Heureka de la Loge) managed to win the 1m45 Grand Prix of the Prestige Cup at Zilveren Spoor, Moorsele under the saddle of her new rider Jérôme Guery.


In Wellington during the Winter Equestrian Festival

Cicero's Electric

(Cicero Z x Mistral) and Laura Kraut took a win in the seven year olds the first week. The day before they became 9th.

Hamlet

(Cicero Z x Heartbreaker) was 4th in a 1m40 and 5th in a 1m45
under Lucy Deslauriers. He jumped to an 8th place the second week in a 1m45 class. For
Idéale by Marstyl

(Cicero Z x Burggraaf) there was a 2nd place with Ignacio Maurin in a 1m30 class.


In Sharjah

Victorieux de Mesille

(Cicero Z x Graf Grannus) gained a 4th place under Abdel Aziz Ali Al Marzouky in the young horses final. The combination became 5th earlier. At Abu Dhabi they were 9th.

In Oliva the Mediterranean Equestrian Tour takes place again.

Vitalia d'Ash

(Cicero Z x Ou Vas Tu III) became 8th and joint first in the classes for seven year old horses with Guillaume Foutrier.

Ciska van Paemel Z

(Cicero Z x Campus) gained a 7th place in a 1m30 class under Aldrick Cheronnet. In other 1m30 classes there were clear round for

Cicero Barelière Z

(Cicero Z x Concorde) & Theresa Krapf,

Caredo C

(Cicero Z x Obsession B) & Lieven Devos and

Icarus van Paemel

(Cicero Z x Remondo) & Valentine Belooussoff.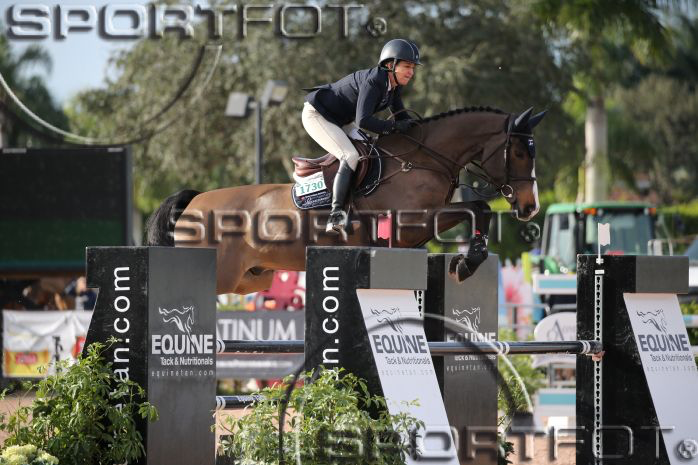 10.01.16 Galisco National Champion of Chile - Cicero II wins Masters

At het Azelhof the Masters were held during the Memorial Guy Caes. There were sixteen competitors and eventually victory was for Harrie Smolders and

Cicero II

(Cicero Z x Guidam). For

Gotti van Paemel

(Cicero Z x Calido I) there was a 2nd place in the Puissance of CSI Liverpool under the saddle of Shane Breen.



Hospita van de Rostal

(Cicero Z x Quickfeuer van Koekshof) jumped double clear in the Flemish Championship. With Nick Vrins she ended on a 6th place. There was also a 10th place in a 1m45 class.

Gautcho da Quinta

(Cicero Z x Upsilon vd Heffinck) has once again shown his quality during Jumping Mechelen. With Catherine Van Roosbroeck he jumped an amazing clear round in the Grand Prix. Unfortunately the jump-off did not go as well, so they ended just outside the top ten. For

Cerise des Brumes

(Cicero Z x Nonstop) there was also twice an 11th place in 1m45 classes. The seven year old mare managed to jump great clears in the first courses.

At the end of last year the approved

Galisco van Paemel

(Cicero Z x Feinschnitt I vd Richter) jumped in the spotlights. During the National Championship of Chile he did not touch one fence. Together with Alessandra Battilana he was crowned champion!